So, today is boss's day, and we decorated my bosses desk today. Needless to say she was really shocked when she walked in to see this: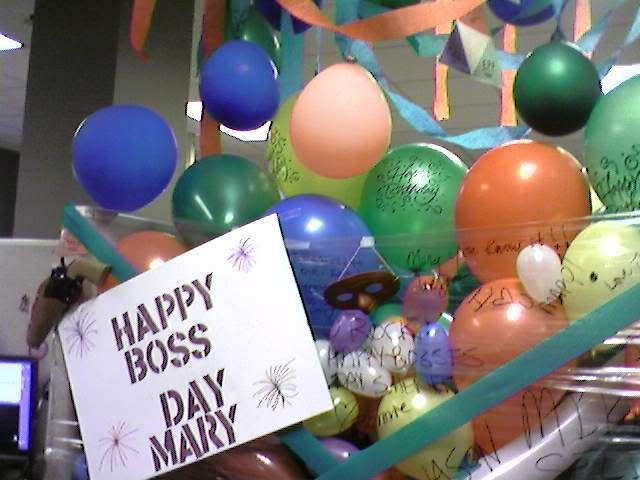 Yeah, I know...it was crazy. You can't see it, but there are streamers hanging from the ceiling, and little notes inside some of the balloons. I almost feel bad for her, but then she's a good boss so I guess I do. Wait til next week when I show you pictures of our plans to decorate our aisle for Halloween. I came up with the plans for it. We'll see how it goes down or if it will. Whatever happens I'll show you the after effects.

So, things have been really tough, but I've got some really wonderful people in my life who are so supportive and kind. They understand that while I'm not perfect I try to be, and isn't that what we're supposed to be in life? Supportive, understanding, forgiving? I feel like I have a lot of forgiveness to give to others, and I'm trying very hard. While I don't expect anyone to ever forgive me, I would hope that that they would just as I am trying right now to forgive. So, that's the emotional side of my life.

Now on to more funny stuff in my life....

You know you're a blonde when....

Twice you ask someone to hand you something you're looking for, and it's right infront of your face. Yesterday I had this card I was making, and I asked my room mate to hand it to me. She just looked at me like I had grown an extra nose or something cause it was right by my hand. Then after I did that...I needed the glue, and asked her to hand it to me. Again, the glue was right in front of me. Well, she had no words after that...I left her speechless. I think I was just tired or something. However, I can't make an excuse for that, when there is no excuse after the first time you do it.

So, that's been my life up to this point. Just wait...there is always more to come, even stranger things have happened.